As we approach the end of the year for 2011, the lake levels on Lake Lanier continue to decrease about a foot a week on average. At this point in mid November, we are approaching the 13 foot below full pool level with little to no rains in sight throughout the winter months. As the lake decreases, I have often found that fishing gets better and better ... just remember to listen to what the fish are telling you!

Please remember to review your lake map as I continue to see a few people going over very dangerous structure and timber out there. Please remeber to use caution for yourself and others.

Everyone be safe fishing!
Happy Fishing! :-)



Copyright © 2006-2012.
All Rights Reserved.

Contact Us
Copyright Info
Privacy Policy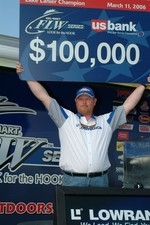 Congratulations to Tim Farley of Lula, GA on his first Walmart FLW win on March 11th, 2006. Tim is one of the most respected and fierce bass anglers on Lake Lanier any time of the year. Best of luck in your upcoming tournaments Tim!




Welcome to Lanier Secrets!

Lake Sidney Lanier is the daily water supplier to local Georgia home and business owners
in the surrounding counties of Gainesville, Cumming, and Buford. Over 3.5 million Georgians
now depend on water stored in the lake or from the Chattahoochee River downstream of
Buford Dam.
Lake Lanier also currently supplies the counties and cities downstream (including Fulton, Cobb and Dekalb counties and the city of Atlanta) with its stored water sources which are released through the Buford Powerhouse daily.
In addition to the water supply to everyone, Lake Lanier, by law, must release and maintain a minimum flow of water from Buford Dam towards West Point Lake. By the U.S. Army Corps of Engineers doing so, it will assure a healthy and safe environment for aquatic and animal life downstream into Florida.
The lake is extremely popular with boaters, houseboats, jet skiers and others, particularly around the summer holidays. Over 19 million visitors annually visit the lake, including the marinas and the Lake Lanier Islands water park, which was used for the rowing and canoeing events at the 1996 Summer Olympics.
Fishing, boating and camping are the main recreational activities although duck and goose hunting is allowed in season. Enjoy the best Spot fishing of the south and visit Lake Lanier soon! Lake Lanier, (officially Lake Sidney Lanier) is a man-made lake that was completed by the U.S. Army Corps of Engineers in 1956 with its main purpose to provide for flood protection, power production, water supply, navigation, recreation and fish and wildlife management.
Lake Lanier completely covers 692 shoreline miles (38,000 acres) across the counties of Hall, White, Forsyth, Dawson and Gwinnett. In addition there are 19,000 acres of controlled shore land above 1070 mean sea level.
Open Ramps on Lake Lanier

Bald Ridge
Balus Creek
Big Creek
Charleston
Chesnut Ridge
Clarks Bridge
East Bank
Gainesville
Holly Park
Keith's Bridge
Lower Pool
Laurel Park
Little Hall
Little River
Mary Alice
Old Federal
Sardis Creek
Shoal Creek
Six Mile Creek
Starboard
Sunrise
Thompson Bridge
Tidwell
Van Pugh
Vanns Tavern
War Hill
Young Deer
For the most up to date on open boat ramps around Lake Lanier, please visit the Boat Ramp Calculator page or contact the U.S. Army Corps of Engineers directly.

Current Lake Level Stats:


| | | | | | |
| --- | --- | --- | --- | --- | --- |
| | | | Last Date Updated: | | December 02, 2023 |
| | | | Last Time Updated: | | 07:30:45 AM |
| | | | Full Pool Level: | | 1071.00 |
| | | | Current Lake Level: | | |